Originally posted on 26 Jan 2010:
Here's the beginning of a project that I think/hope I can pull off -- I'm trying to build an EV from scratch. I have started with making a 1/24th scale (aka 1/2" = 1') model of the car I have been contemplating. It is approximately 13 feet long by 5 feet 8 inches wide by 5 feet high. In other words, it is very similar to my Scion xA -- it is about 2 inches wider and 5-6 inches taller. Here are photos of the model so far: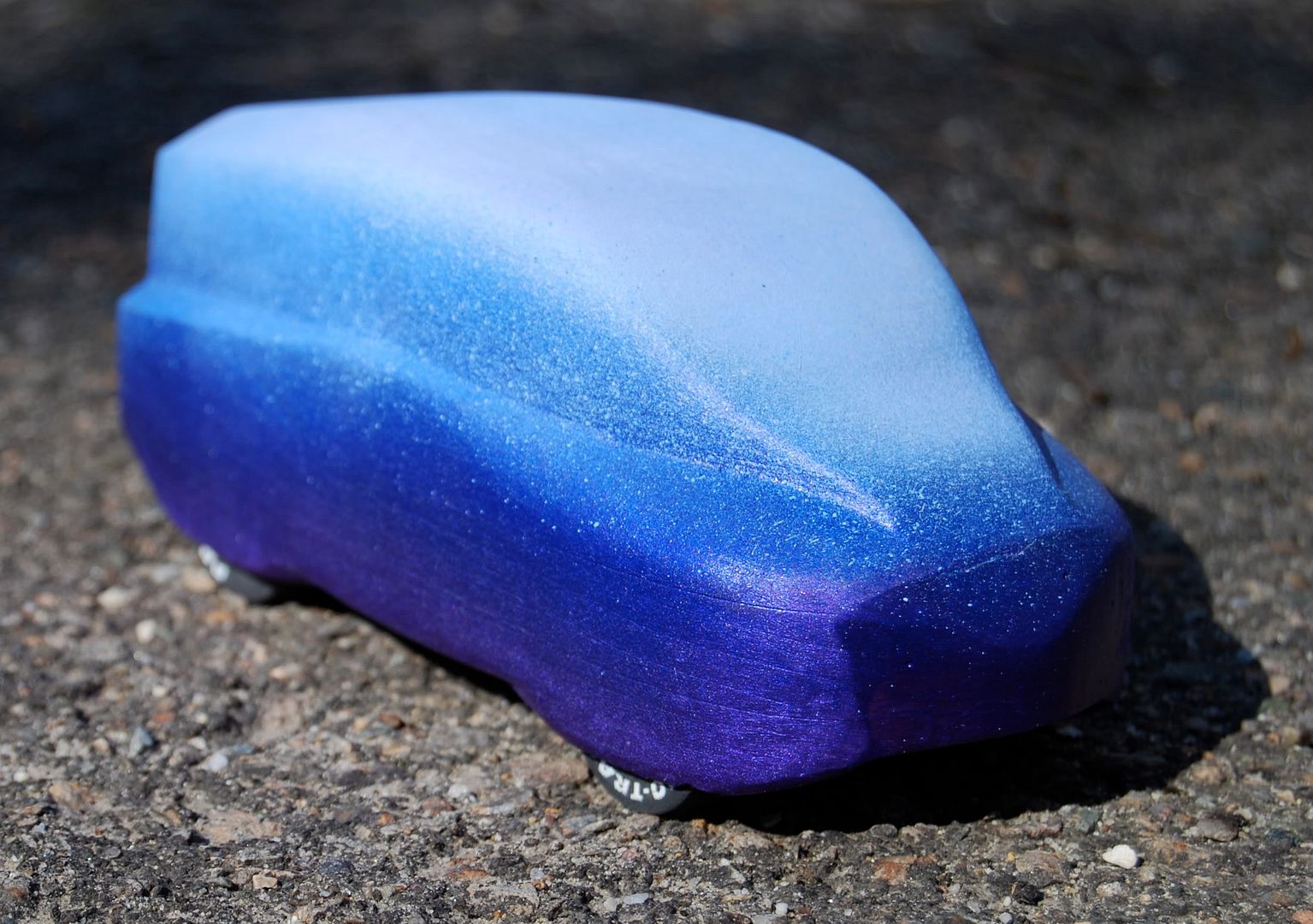 The rear is ~4'-6" wide, and virtually the same from the ground to the "peak". My biggest mistake on the model so far is the bottom of the rear should not curve up -- it should be straight back, and have a crisp corner, like the sides and top. I probably should add some epoxy there to correct this.
I can't narrow the back unless it extended farther back, and the top slope is already limiting the usable headroom. I'm going to try to draw it and see how I can arrange the seats, etc. I'm think that I'd like to have the driver sit in the center front; and I'm going to try to think about structure and safety, and how the door(s) will work. I'd also love to work in an electromagnetic regenerative suspension system, using something like what Bose makes.
The batteries (and supercapacitor?) will be under the floor, and interior floor will be flat. I'm going to try to use hub motors. There are other things that I am trying to work out, and I'll post progress photos and updates as I go along.
Update: I've done a drawing of the CarBEN concept, showing 5 seats -- assuming an entry hatch/door in the back; or, in addition a hinged side door. The door(s) will have multiple latches to secure them fully as part of the structure, to greatly increase the strength of the chassis; particularly in a crash.
Ideally, the chassis would be constructed by a composite skin and honeycomb sandwich, which are very strong and very lightweight, and can be formed into compound curves needed for low drag. This type of construction would also have very few seams, and it would provide thermal insulation; for both the people inside, and the battery pack as well.
Having said that, I think it is likely that the first version of this car would be made with a welded steel tubular chassis, with an aluminum skin; because this is much more achievable for me to make, and it would be more easily recyclable. It will probably have the surface look of an AirStream trailer! :-O
I think that I will implement the regenerative braking with it's own pedal -- so, three pedals in total:
Accelerator pedal on the right
Conventional hydraulic brake in the middle (where a driver who is used to an automatic would expect it)
Regenerative brake on the left (where the clutch would be in a manual shift car)
This would allow the driver to use the regenerative braking at the level they need to, and then if more braking power is required, they can use the hydraulic brakes as well.
So, what do you think? If you are interested, I can send you a DWG (or a DataCAD AEC file). I will (hopefully) be starting a 3D CAD model soon.
*************
A brief update on my CarBEN EV concept: Here's a Sonex airplane that my friend Mike Smith is building from scratch: http://www.sonexaircraft.com/aircraft/sonex.html

I think the 4-cylinder 80HP engine weighs ~130 pounds, and the dry weight of the whole plane (including the engine) is 570-620 pounds. 22' wingspan, and th

...

e fuselage is 18' long. +6G and -3G in a 440-490 pound structure is great! This construction method is pretty straightforward. It uses 0.025" and 0.032" 6061-T6 Aluminum sheets, and some aluminum plate and angle stock -- and thousands of pop rivets.
What my friend did is he drew the patterns full size in DataCAD (which the way you always draw things!) and he plotted them out full size (you can choose any scale for plotting) and he used spray adhesive to stick the paper onto the aluminum sheets. Then he cut them out, drilled all the holes, deburred them, clamped them in wood forms (two halves cut out of OSB board and wing nut and bolted) and used a soft plastic hammer and a pair of special pliers to pleat the flange around curves.

He's spent about 500 hours and he has almost all the components made. He's spent ~$1,600 on stock and ~$900 on tools.

Doing a similar process on a car would not seem to be all that hard.

Oh, and I'm continuing on the drawings -- I'd like to be able to test the aerodynamics of it before committing it to reality...or at least before building a working chassis!
CarBEN EV5
by
Neil Blanchard
is licensed under a
Creative Commons Attribution-ShareAlike 3.0 Unported License
.